Discover the WordPress video player that video Marketing Jedi's use for crushing it in affiliate sales…
Simple Video Pro – "The" WordPress Video Plugin for WordPress Marketers
Simple Video Pro v2 Now Available
This post was originally written to tell you what sets Simple Video Pro (SVP) v1 apart from all of the other video players for WordPress. SVP v2 has now been released, and it's even better than SVP v1. Read on to find out more…

There's no shortage of WordPress video players plugins. But, easily one of the best WordPress video players launches today by Mike Lantz (Chief of the Warrior Forum) and Nick LaPolla. It's called Simple Video Pro…and when you see what it does, you'll want Simple Video Pro for yourself.
What is Simple Video Pro?
Simple Video Pro is way more than a Video Player for WordPress. It's a video marketing platform. It's got over 30 new features that EVP2 and other WordPress video players don't have. And, besides working on PCs and Macs, it also works on iPhones and iPads, too.
It works with your YouTube-hosted videos, your Amazon S3 videos, as well as the videos you host within your website hosting account.
Features
YouTube-Specific Features

Watermark Logos
Custom Clickable Banner Ads
Clickable Splash Images
Content Reveal
HTML Overlay
Opt-in Form Overlay
PayPal Buy Button

Set a Start Point
Set a Stop Point
Replace the Logo

Social Media Tie-In
Choice of Skins

Facebook Like & Reveal
Google+ Reveal
Pinterest
Twitter

8 Pro Skins
32 Different Sizes
Supports Exact Sizing

Point and Click Video Marketing Platform
Summary

Affiliate Embed
Perfect Timing
Choose Display Pages and Posts
Reveal Other Video
Remembers that Visitors Opt-in
Splash Image
PayPal Buy Button
Link End Splash to URL
…and, a lot more

Point & Click Interface
Embed your affiliate links directly into your videos
PayPal Buy Button
Redirects
30+ WordPress marketing features
Special Launch Pricing
Bottom-line on Simple Video Pro
As a WordPress marketer, you'll want to get this video player. Simple Video Pro earns my highest recommendation. Grab it now before the price goes way up. Get more information on
Simple Video Pro
I purchased Simple Video Pro.
Filed Under: Simple Video Pro


It's easy to resize images for WordPress using the free Online-Image-Editor.com tool.

No more settling for an image size that is too big or too small. Now, you can easily dial-in the exact size you want with the Online-Image-Editor.com tool.
Don Roberts, CLMC
Resize Images For WordPress Resources:
Filed Under: Resize Images For WordPress

Wouldn't it be great if there were something that could make Thesis customization a snap? And, to make Thesis look whatever way you want? You're in luck. Keep reading…
Oh sure, Thesis provides admin panels to make some quick work of basic Thesis customisation, like changing fonts, colors, columns, etc. And, Thesis even allows you to dig in and modify the CSS and PHP. But, why bother when you can make use of convenient Thesis customization plugins instead?
As you read the entire post, you'll discover must-have plugins that will allow you to make any change to Thesis a snap.
IMPORTANT UPDATE: October 2012
DIYThemes has just launched
Thesis v2
. The article below applies to Thesis v1.8x (which I still use on this site, as well as several client sites). The plugins mentioned in this article do
not
work in Thesis v2. However, there is no better training offered for customizing Thesis v2 than that offered by
Rick Anderson of BYOB Website
. If my coaching students are any indicator, you'll be glad you found Rick.
Thesis Customization Made Simple
For years, I've been a big fan of Rick Anderson's Thesis customization training over at Build Your Own Business Website (BYOB). Rick does a fantastic job of showing how to change the "look and feel" of a Thesis theme website using CSS and PHP.
And, now he's made it so easy to customize Thesis with a series of custom plugins he's developed specifically for Thesis customization.
The Plugins That Make Thesis Customization a Snap
Rick's Thesis customization plugins allow you to easily customize Thesis to your heart's content. If you can imagine it, you can easily accomplish it with these plugins.
Check-out this list of the Thesis customization plugins that cover just about everything imaginable:
Thesis Full Width Background Plugin – Easily add custom styles to the backgrounds of the main page elements in the Thesis full width framework. This is so simple to do now.
Thesis Header Layout Plugin – Easily create a custom header that looks the way you want and functions the way you want. Want widgets in the header? Now it's easy.
Thesis Widget Styles Plugin – Create up to 10 styles that you can easily apply to any or all of the widgets on your site. Imagine it…and you can do it. Awesome.
Thesis Simple Feature Box Plugin – Quickly add a slideshow, image gallery, video, or anything else to the Thesis Feature Box. What was more complex is now easy.
Thesis Simple Navigation Menu Plugin – Get enhanced flexibility and more control over the appearance of the Thesis Navigation Menu. You'll love this.
Thesis Navigation Menu Plugin – Get total control over the "look & feel" of the navigation menu. You'll love this even more.
Thesis Multiple Menus Plugin – Add an unlimited number of menus to your site and attach them to any of the typical 12 menu locations. Wow.
Thesis Shortcode Content Widgets Plugin – Quickly and easily create widget areas and insert them

anywhere

into your content. This one is my favorite one.
Thesis Landing Pages Plugin – Easily create

landing pages

on the fly directly from the post or page edit screen. Just too cool.
Thesis Sub Sidebars Plugin – Need more sidebar action? Bring flexibility to your sidebar configuration with Sub Sidebars.
Thesis Mobile Content Switcher Plugin – Want to be able to automatically switch between the flash version of a video and the mobile version? Now, it's a piece of cake to do.
Thesis Exclude Categories From Posts Plugin – Easily select any number of categories that you do not want to display on your home page – or your "posts" page. Handy for sure.
Here's All You Have To Do To Customize Thesis…
Each of the Thesis Toolbox plugins provides a dedicated editing panel that is simple and straightforward to use. And the editing you do is in the form of things as simple as:
Checkboxes – Select/deselect a feature
Numerical entry fields – e.g., enter 940 for a 940px header image width
URL fields – Specify the location of an image
Etc.
Imagine how easy this is…
Thesis Theme Customization: How To Videos
Rick provides a set of how-to videos for each plugin. When you get Rick's plugins, Thesis customization is 1-2-3 simple.
Rick's also got a very active member's forum to get any question answered that's related to the plugins or other services he provides.

Thesis Customization: The Hard Way…Or The Easy Way
The hard way to customize Thesis is to dig into the CSS, PHP, or both.
The easy way is to make use of Rick's Thesis customization plugins.
Bottom-line

Previously, Rick had me up-to-speed editing CSS and PHP to make Thesis look exactly the way I wanted. Even so, t took awhile to do. Now, it is so quick and simple to customize Thesis like a pro with his amazing plugins. You'll definitely want these in your WordPress marketing toolbox.
…Highly recommended.
What To Do Now…
Rick's Thesis customization plugins are free to members of his monthly training. His Thesis customization training is the best I've found on the web. I've been with him for years now…and, I have no intention of leaving any time soon. It's that good.
And, as you may have already guessed by his website's name (Build Your Own Business Website), he also provides training on how to set-up an e-commerce website…using Thesis, of course. He's also recently added training for the Genesis framework.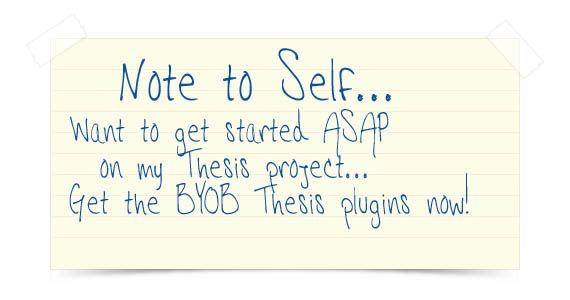 When you get the Thesis customization plugins, you will be happy to have them because they make customizing Thesis a snap. Get the Thesis customization plugins!
Don Roberts, CLMC
Note: I am a paid member of the BYOB Website monthly Thesis training.
Thesis Customization Resources:
Filed Under: Thesis Customization

WordPress is a powerful website platform for marketing online. It provides the ability for online and offline marketers of all skill levels to easily add highly desirable functionality to a site (e.g., opt-in forms, video, etc.). And via the theme you choose, WordPress also allows nearly instant transformation from one "look & feel" of your website to another. While simply selecting a different theme can easily accomplish this task, not all WordPress themes are created equal.
This Thesis theme review answers the question I get asked:
"Should I buy the Thesis theme?"
Summary – For my online marketing money, the most powerful and flexible WordPress theme available – by a long shot – is the Thesis Theme. But, what is Thesis theme?
Thesis is an efficient and lightweight HTML, CSS, and php framework for WordPress. It has easy-to-use-controls, is built with SEO in mind, and allows you to focus on your killer content.
As you read this entire article, you'll discover what makes Thesis:
So powerful for the search engines
So desirable for plugin use
So flexible for site design
Thesis Theme – Powerful for the Search Engines
Optimizing your website for the keyword phrases that searchers use is incredibly important for getting your website ranked favorably in the search engines. Most WordPress themes do not come with search engine optimization (SEO) in mind. If you want SEO for your website, you're forced to use an SEO plugin…that may end-up not working with the theme you've chosen. More on that in a minute…

Out-of-the-box, the Thesis theme makes SEO easy by allowing you to set all of the important SEO related settings related to a page, post, image, and video…without relying on a separate plugin.
Back to our question, "Should I buy the Thesis theme?" I've found that the Thesis theme plays a very important role in getting pages and posts ranked favorably in the search engines. And, that means more traffic to my sites…and my client's sites.
"Thesis is a secret weapon in getting great search results." ~ Don Roberts (Certified Local Marketing Consultant)
Thesis Theme – Desirable For Plugin Use
As you know, one of the main benefits of using WordPress is the ability to use plugins for added functionality. And, I use quite a few of them.
The trouble I've found is that some themes and plugins don't always work together. And, it's a bummer when you find out that a plugin you've purchased won't work with the WordPress theme you're using. But, how do you know which ones don't work together? Often, you don't until you're actually installing a plugin.

Since we were talking about SEO (above), let's stay on that for a moment. You may already know that there are some free and paid WordPress plugins available that exist to help optimize your page or post for the search engines. Unfortunately, some themes break the functionality of plugins…even some of the most well known SEO plugins, like the very capable WordPress SEO plugin.
Now, this is not to say that all other themes aren't any good. Rather, I've found it to be a crap-shoot as to whether or not a given plugin will work with a given WordPress theme. It's also not uncommon for one plugin to conflict with another.
An Example…
Recently, I experimented with a cool WordPress system that allows you to rapidly mock-up a website (for the "look & feel" part), then quickly transfer the code for the design into a "live" WordPress website. The code from the mock-up design is copied & pasted into a version of a well known WordPress theme. This system appealed to me because it helped streamline the process for prospecting for offline clients…and getting a site set-up for prospect who signed-up to become a client.
Sounds great, right? I thought so, too…until I found the associated theme to have some major flaws that broke website functionality. Here were just a few of the important things that did not work:
SEO Plugins Broken – None of the capable WordPress SEO plugin settings would stick…as if the values had never been set. And, it wasn't the fault of the SEO plugin
Image Placement Broken – Under normal circumstances, you can align a photo left, center, or right with WordPress…and have the text wrap around it. This well known theme made it so the settings you chose were ignored/overridden…resulting in left-justify every time…and with no text wrap at all. Fail.
Lightbox Broken – The ability to have a pop-up video or image lightbox was simply not working with this well known theme.
And, there were several more frustrating issues…all unacceptable.
"Should I buy the Thesis theme?" I make good use of many WordPress plugins, and I have not found any so far that don't work with Thesis. Thesis is rock-solid with plugins.
Thesis Theme – Flexible For Design
I have worked with a variety of WordPress themes…and have not come across a theme that is more flexible than Thesis. To me, there's nothing even close to the flexibility that Thesis offers.
When first installed, the Thesis theme looks fairly plain…kind of like a newspaper. But, don't let the somewhat pizzazz-free look throw you. You see, with a little bit of effort, you can make the Thesis theme look like any theme available. Its that flexible.
The Thesis admin section makes it a snap to make site-wide changes to the "look & feel" of your site without touching any code. Easily make changes to fonts, colors, columns…and a lot more. It's newbie-friendly, but the more advanced users will love it, too.
For those who enjoy code...and plugins
Thesis also provides the ability to make modifications to the "look & feel" of the Thesis using CSS and PHP file customizations. But, the even easier way to
customize Thesis
v1.85 (still available) is with a series of custom plugins described in this
Thesis customization
article. Newer versions of Thesis are customizable within the Thesis admin dashboard.
"Should I buy the Thesis theme?" When you combine the limitless design flexibility with the best-in-class search engine friendly features…and the powerhouse plugin functionality that WordPress offers, you have the best set-up possible.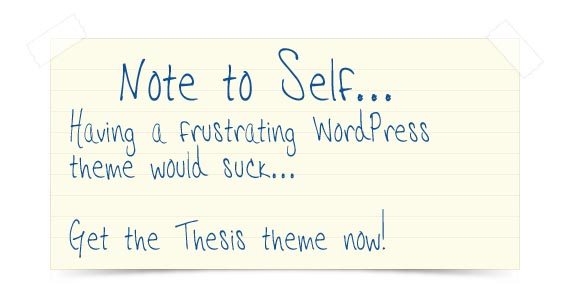 As you're reading this, you begin to realize how well the Thesis theme is made compared to the bulk of other WordPress themes. And, when you think about the unfair advantage Thesis provides, you'll want to get Thesis right now!
Bottom-line: Should I buy the Thesis theme? For a WordPress theme Thesis just works…and very well at that. If you want a WordPress theme that is:
Top-shelf in the SEO department
Limitless in the "look & feel" department
And, friendly to plugins
Then, your choice is clear. And, just to help with that final nudge to get Thesis, here are a few more things to make the decision a real no-brainer:
The guys at DIYThemes keep updating Thesis
The version updates are free…and easy to install
You get access to a large private forum to help get any Thesis theme question resolved
Highly recommended.
What to do now…
When you think about which theme you should use for your WordPress website, the only question to really ask yourself is, "Which Thesis option should I choose to buy?"
If funds are limited…or you are certain you will really & truly only build 1 WordPress website during your lifetime, go with the single website option.
However, the best deal by a country mile is to get the Developer option. You pay a little bit more, and you get the option to build an unlimited number of WordPress websites using the Thesis theme. And, this option allows you to sell them, too. By going for the Developer option, you'll think your pretty smart every time you build a new website…and don't have to spring for another single-site license.
Either way, you want to get Thesis now!
Don Roberts, CLMC
Note: My decision was to purchase the Thesis Developer option.
Resources:
Filed Under: Should I Buy The Thesis Theme?

Security in WordPress?
You can't believe it happened, but it's true. Your WordPress website has been hacked. And, you didn't even see it coming.
Imagine that happening to you…
What would you do? Do you even backup WordPress?
A WP Security Fact: WordPress Websites Are Targets
If you own a WordPress website, it's highly likely that your website has been the target of attack by hackers…many times over. And, you're probably not even aware of it.
Are you asking why a hacker would want to hack your WordPress website? Or, are you thinking that you'd probably know about it if it was really happening? You're not alone. Lots of people think that, too.
Automated Hacking…
While some hacker attacks are deliberately focused on a given website, most attacks are carried out by countless automated scripts working 24 hours per day. The scripts often are programmed to run through ranges of IP addresses (think of these as street addresses on the Internet). Other than the targeted attacks, your website is just as likely to get attacked as the next one.
And, as far as you being aware of hacking attempts on your WordPress website, it's highly unlikely you would know unless:
You already have security measures in place that inform you
Your WordPress site has been taken over by a hacker…and it's obvious (i.e., changes to website appearance, text, etc.)
You should know that your site can be compromised without you even knowing it. Everything may look the same, but your site could now be controlled by rogue computers on the web for the purpose of spamming or delivering viruses to the unsuspecting. Maybe, the hacker replaced your AdSense code with his/hers. Lot's of possibilities exist.
As you read this entire article, you'll discover:
How vulnerable your WordPress website is
An easy way to defend against certain types of attacks
What else you'll want to do to secure your WP site against attack
WordPress – Is there Security In WordPress?
First of all, I believe that WordPress is a fantastic website platform for a number of reasons. My thanks go out to those that bring us WordPress…for free.
You likely already know that the WordPress team is constantly improving WordPress and fixing security problems. Even so, a standard WordPress installation offers several tempting targets for hackers to exploit, and the WordPress Admin dashboard does not inform you of the hacking assaults against your site on its own.
Most WordPress website owners are surprised to learn that their WP sites have several vulnerabilities and have been under attack since they were first published.
"The first my attorney friend became of aware of any hacking attempts on his business site was when it was taken over by a hacker. And, it was hacked so completely that the hosting company's tech support could not even rescue the site…a total loss." ~ Don Roberts
Imagine that happening to you…
Security For WordPress: Login Attacks
One way hackers attempt to gain control of your WordPress website is to simply login on the Admin login screen. The bad guys need two pieces of information to make this happen…a username and a password. Hackers know that many WordPress website owners use the default "Admin" for the username. So, all they need now is the password. And, their automated scripts can keep trying passwords until they find the right one…then, login.
"Always change the 'Admin' username to something different, and use a strong password…let your password manager remember them." ~ Don Roberts
WordPress Security Tips: Here's Something You Can Do Right Now…
You'll want to do this right away. It's easy and it's free.
Get the "Limit Login Attempts" plugin from the WordPress Codex, and install it. Once you do, you'll be on your to securing your WP website against the bad guys.
Limit Login Attempts begins working right out of the box. On it's page in the Admin dashboard, it will begin reporting failed login attempts "by IP address". It will also begin temporarily locking-out IP addresses for exceeding the number of failed logins you specify (the default is 4 login attempts).
You can even have it email you when a lock-out occurs. The subject line will read "[YOUR URL] Too many failed login attempts". Ironically, I received one of these emails while writing this paragraph.
Tip – The lock-out notification email identifies the IP address of the locked-out hacker. I entered the IP address into the "IP Deny Manager" in my HostGator cPanel. At that point, the hacker cannot even access the login form through that IP address anymore.
As is obvious by it's name, this great wordpress security plugin limits the number of times a hacker script can attempt to crack your login.
Here's How To Defend Against Other Big WordPress Security Issues…
You've got one important WP security vulnerability plugged now. But, you'll also want to take action on several more vulnerabilities.

Smart WordPress website owners want a complete solution to secure their WordPress websites. The guys at WP Secure Pro have made it easy with their complete system. I bought it and was so impressed with it that I have rolled it out across all of the websites I manage. It's that good. With WP Secure Pro, you get
Videos – 27

short

videos showing you step-by-step exactly how to secure all of your WP sites
Checklist – A security checklist
Guide – A companion guide with more information
Bonuses – 2 handy bonuses
The videos are short and to-the-point. The WP Secure Pro system relies on a select group of highly effective – and free – WordPress security plugins that you'll want to install. You'll also need FileZilla or a similar FTP client to make quick changes to a few files.
It's all really easy.
What Does It Cost For Security In WordPress?
Consider what you would be willing to pay to keep hackers out of your WordPress websites…
In a world of $197 for "this" tool…and $97 for "that" tool, it's refreshing to know that WP Secure Pro is only $29. But, don't let the almost give-a-way price for WP Secure Pro lull you into questioning its value. At only $29, you get security for WordPress. It's a screaming deal!
As you sit here reading this, you begin to realize that your WordPress websites are constantly under attack. When you buy WP Secure Pro, it will be one of the smartest decisions you make to have security in WordPress.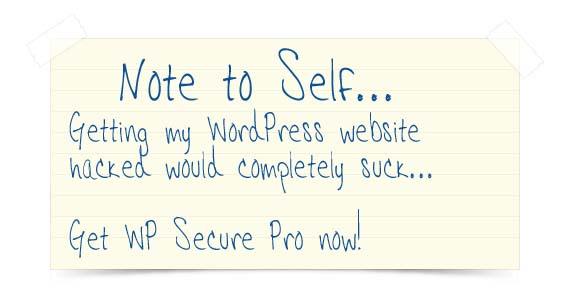 Bottom-line
WP Secure Pro just works. Get WP Secure Pro now! It will be like having the house on the block with the burglar alarm on it. The bad guys will just move on to another house without one.
…Highly recommended
What To Do Now…
Get WP Secure Pro now! You'll be glad to have it.
Don Roberts, CLMC
Note: I purchased WP Secure Pro
Security for WordPress Resources:
Filed Under: Security for WordPress (Security in WordPress)

Picture this WordPress Backup Scenario Happening to You…
You've just noticed in your WordPress admin panel that the latest version of WordPress is available for updating your blog with the latest security fixes and some functional improvements. Sounds pretty standard, right?
And, just like you've done several times in the past, you click the "Update Now" button just to get it done and over with. Normally, it's done before you know it. But, this time, something isn't right. Instead of the usual successful update completion message you always get, you now see only a "Fatal Error" message.
As you're sitting there, you begin to get concerned about what you're seeing. Your concern turns into panic when you quickly discover that you can no longer login to your WordPress website. Did you ever buy that WordPress backup tool? No? Great…now what?
Even if your WordPress website is somehow operational to site visitors, you won't be able to make any changesto it…from now on.
Think about that for a minute…
And, If you're thinking this wouldn't happen to you, guess again. It happened to me, and it happens everyday to countless WordPress website owners. In fact, the more sites you have, the greater the likelihood of disaster happening to you…sooner than later.
Now, Picture This WordPress Backup Scenario…
The WordPress update still goes bad (or something else goes wrong), but this time you have a solid WordPress backup solution already in place. And, because of this, you are glad to know that you will avoid the panic altogether…and simply make quick work of getting things back to normal.
What if This Happens to You Without a WordPress Backup Solution in Place?
A friend of mine is a real estate attorney, and he got his WordPress business website hacked so badly that the web hosting company's tech support guys couldn't even recover his website. Tech support couldn't even recover his website…it was a total loss.
Let me repeat that. The tech support geeks who pride themselves in solving technical problems…couldn't save anything.
…and, he did not have a WordPress Backup solution in place. It was a total loss. He had to have his website re-created from scratch.
Imagine that happening to you…
Not all Backup for WordPress Solutions are Created Equal
My friend's catastrophe got me thinking about WordPress security solutions and WordPress backup solutions. I'll tackle security for WordPress head-on in another article. But for this article, let's take a look at a great WordPress blog backup solution.
Now, of course, there are free tools and paid tools. Some may ask, "Why should I buy a WordPress backup tool when I can get one free on the WordPress Codex?" It's a logical question to ask.
Some WordPress backup tools don't backup the whole site…
As I began looking around, I found that
many of the free WordPress blog backup tools only backup the WordPress files
,
not all of the files on your WordPress website
. What was that? Yes, you're reading that right..many do
not
backup everything.
That sounds ridonculous to me…
Why settle for an incomplete solution? I mean, who would want to use a WordPress blog backup tool that restores only the WordPress files, but requires that you spend hours finding and uploading all the non-WordPress files (like photos). No thanks…
The WordPress Backup Tool of Choice*
While comparing WordPress blog backup tools, I quickly zeroed-in on one in particular that stood-out above the others. It's called WPTwin, and it's a real lifesaver.
While additional WordPress functionality often comes in the form of a plugin, the initial WPTwin solution does not.
Here's what you get when you choose to buy WPTwin:
2 php files (easy to upload to your website)
Browser login to generate a "clone" file (WordPress backup file)…or to "deploy" the clone (copy it back to your hosting account)
Member's access to 2 short training videos
…Simple to get set-up and running.
For the initial WPTwin WordPress backup solution, backing up (or "cloning" as the WPTwin guys put it) a WordPress website is a manual process with WPTwin. But, it's so simple, and it takes less than a minute per website. The makers of WPTwin do, however, offer an addon plugin for WordPress to completely automate the backups.
* GoDaddy Warning
I have found that WPTwin does
not
work with GoDaddy. I went round and round with their tech support, and because of the way their server technology works for shared hosting, WPTwin won't work…unless you upgrade to GoDaddy's dedicated hosting for about $250/mo. This was a deal-breaker for my attorney friend… so much so that he decided to choose
HostGator
for his web hosting instead of GoDaddy. He moved everything over and has been making weekly backups since.
Here's How to Backup WordPress…
Using an FTP client (like FileZilla) or the cPanel's File Manager, you upload the wptwin.php file to your WordPress website's root directory (do this just once for each WordPress website). Using your browser, navigate to the wptwin.php file you just uploaded (e.g., www.domain.com/wptwin.php). Note that you have to be logged-in as an Admin to your WordPress, otherwise you won't be able to clone your website. That's a security feature that will keep others out, too.
Once logged in, you simply click the "Click to Clone this Site" button. Depending on how big your WordPress website is, it can take as little as 15 seconds to have a full clone of your website. On sites with a lot of content, it usually takes less than a minute.
Next, you click the freshly-created "Download:"  link and copy the clone file to a folder you'll remember on your hard drive. I have a separate folder for each WordPress website…easy to find everything related to a specific website that way.
Tip: So that I always have two identical backups in case of the unexpected, I copy a new clone file from my hard drive and paste it to my DropBox account, too.
After I download the clone backup from the wptwin browser session, I immediately click the "Delete This Clone" button to delete the clone file so that it is not available to others.
If you get the WPTwin backup plugin, it currently saves backup files on your website's server only. And, naturally, it does not automatically delete backup files.
I manually backup my sites and my client's sites once a week.
Where the Rubber Meets the Road in a WordPress Backup…
Having WordPress backup files certainly provides a sense of security. But, they have little value if they don't work when you need them to work.
Imagine the frustration you'd feel if you had used some other WordPress backup tool that only had been backing up the WordPress files…not everything. Many WordPress Admins find this out the hard way…when it's too late.
As it happens with WPTwin, re-creating a WordPress website from a complete clone is a piece of cake.
To redeploy the cloned website, the WPTwin instructions say to:
Install WordPress on your desired Domain and/or directory using cPanel (Fantastico)
Upload wptwindeploy.php and clone file to the root directory of your new WordPress installation
Access wptwindeploy.php with your web browser and follow the on-screen instructions
I Did This When Deploying My WordPress Backup Clone…
I actually went to a little more effort because I wanted to make sure there were no gremlins left running around on the hosting server hard drive. I decided to start completely fresh…I decided to start completely fresh, so I deleted the currently corrupted WordPress installation in Fantastico…and, I decided to delete the associated addon domain from my hosting account. Then, I re-added it back to my hosting account. Perhaps a bit overkill, but I wanted to ensure I eliminated any trace of the previously corrupted set-up.
After I created a brand new WordPress installation, I pointed my browser to the domain just to make sure that the virgin WordPress blog was operational again. It was.
Next, you upload the wptwindeploy.php file and the backup file to the website's root directory. I used FileZilla for this, but you can use other FTP clients…or the File Manger in cPanel.
When the files are in place, navigate to the wptwindeploy.php file (e.g., www.domain.com/wptwindeploy.php). Note that you'll be asked to validate your use of WPTwin. When you've done this, you'll be be presented with some recommended defaults for the deploy process. I went with the recommended settings, then clicked "deploy clone".
What Were the Results?

About 5 minutes later, the process was complete. My site was not only alive and well again, I was easily able to login to the Admin area to continue on as normal. Oh, and I made another backup just for good measure.
Which Website Did I Rescue from Disaster?
You're looking at it. If I didn't choose to buy WPTwin in 2011, my only choices would have been to re-create it…or scrap it. Neither are desirable.
The reason I have Word Press backup in place…is the same reason I have insurance for my car and house. It's not sexy, until you need it. And, just like with insurance, if you don't get WordPress backup in place before the problem arises, it's going to be a bad day for you…
Additional Incentive to Get WPTwin
There are some other paid WordPress backup plugin tools out there. And, while I believe WPTwin is the best WordPress backup solution, an additional reason to buy WPTwin is that you can use it on an unlimited number of WordPress websites. Other WordPress blog backup plugins have a limit on the number of websites you are allowed to use them on. And, outrageously, with that limitation, some cost more than WPTwin!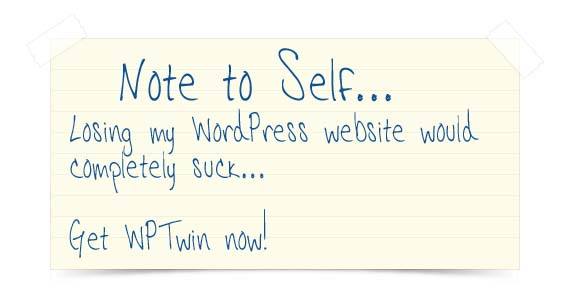 Bottom-line
WPTwin just works. Get WPTwin now. You'll be glad you did, especially when WordPress disaster strikes…and you have a recent clone of your entire WordPress website waiting-in-the-wings to re-create your site…within about 10-minutes.
…Highly recommended
What To Do Now…
Join me and make the smart decision…choose to get wptwin now before you lose your WordPress website because you didn't have a complete clone ready to go.
WordPress Backup Resources:
Don Roberts, CLMC
Note: I purchased WPTwin
Filed under: WordPress Backup, WordPress Blog Backup

Amazon Re-Opens Doors to California-based Amazon Associates Program Affiliates
California Governor Jerry Brown signed a law that repeals legislation aimed at Amazon and other online retailers, As a result, Amazon opens the door again to California-based Amazon Associates Program affiliates. You will have to re-enroll. But, it a quick 3-step process. The link to re-enrollment is Reactivate Your Amazon Associates Account.
Why Amazon Terminated California-based Associates
On June 29, 2011, Amazon.com terminated all contracts for California-based Amazon Associates Program members. This was Amazon's reaction to Governor Brown signing into law a bill (AB X28 1) that, besides providing for deep spending cuts, also required out-of-state online retailers to collect sales tax if they have "affiliates, offices, workers, or other ties to the state".
With the stroke of the Governor's pen, Amazon chose to instantly cut off a source of income to some 10,000 California-based Amazon Associates Program affiliate marketers. Some Associates were making the majority of their living collecting advertising for sales referred to Amazon.
"We oppose this bill because it is unconstitutional and counterproductive" ~ Amazon Associates Program
Amazon Strikes A Deal
By September 9th, 2011, Amazon negotiated a deal with California lawmakers that gave Amazon a year before the company had to start collecting sales tax on California purchases. Part of the deal requires Amazon to lobby the US Congress for a federal solution. Amazon has indicated it would support a "simple, nationwide system of state and local taxes".
Amazon's Email To Associates
Earlier today, Amazon sent an email to former California-based Associates Program members inviting them to re-enroll in the Amazon Associates Program. Apparently since the California-based contracts between Amazon and the California-based Associates were officially terminated, they must be officially re-instated via the re-enrollment process.
How to Re-Enroll in the Amazon Associates Program
Re-enrollment is as easy as 1-2-3. Simply:
Login
Verify your Account Number, Agree to the Terms & Conditions, and click "Submit"
Just that simple. Additional information about re-enrollment can be found at:
Keep in mind that re-enrollment is only directed at California Amazon Associates Program affiliate marketing residents.
Ready..Set…Go turn your Amazon internet marketing websites back on…and make money online!
Filed Under: Amazon Associates Program
People who click Google+ or Facebook Like are awesome!

AutoResponder: Add Rocket Fuel to Your Marketing Using an AutoResponder
I find that many business owners don't know what an autoresponder is. And, those that say they do have it only partially right. An autoresponder is a marketing tool that savvy business owners in-the-know use to get more sales.
AutoResponder: The Definition
Here's what Wikipedia says an autoresponder is:
"An autoresponder is a computer program that automatically answers e-mail sent to it."
Yes, but there's more to an autoresponder than that…
An autoresponder is a computer program running on a server on the Internet. It not only takes input from email, it also accepts input from web forms. And, the best ones also accept input from SMS (Short Message Service…text messages).  Autoresponders also send out messages to those who have subscribed.
How is an AutoResponder Used in Your Marketing?
Autoresponders are a powerful tool in your online marketing arsenal that allow you to:
Provide information to subscribers…immediately, if you like
Follow-up with subscribers at preset time intervals to:

Build a relationship with them & solicit feedback
Provide additional information
Make offers
AutoResponder Message Types
A top-shelf autoresponder can send out five different types of messages to subscribers:
Individual email (most autoreponders only do this)
SMS text message
Voicemail
Postcard
Letter
Autoresponder messages are organized "by campaign". An autoresponder campaign is a sequence of planned messages sent out to subscribers at specific intervals of your choosing. You can have as many autoresponder campaigns as you want. And, with a top-shelf autoresponder provider, you can use whatever combination of autoresponder message types you desire.
Campaign Example: AutoResponder Message Types In Action
An autoresponder is helpful to just about any business. But, for an example, let's say you offer a service…a house painting service.
You and I crossed paths, and I made you aware of how using an autoresponder could bring you more leads. I set-up a lead-capture website for you that offers a complimentary report to prospects on, say, how to pick the best house painter…or how to avoid being ripped-off by a house painting company. To get the report, the prospect must provide his/her contact information on the lead-capture site. For this example, let's say you're asking for their first name, email address, and mobile phone number (the last one is optional).
Here's what happens next:
Autoresponder notified – The autoresponder takes the input from the web form on the lead-capture site
Message #1 Sent – The autoresponder emails the prospect a copy of your report…immediately
Message #2 Sent – An SMS text message gets sent to the prospect's mobile phone informing them that the report has been emailed to them
Message #3 Sent – A pre-recorded voicemail gets sent to the homeowner's cell phone the next day encouraging them to read the report…all without tirhe phone ringing.
…And, you can continue sending messages.
If the prospect did not submit their mobile phone number, you can send them an email encouraging them to text it now…and, you'll send them a discount coupon for doing so. Pretty cool…right?
AutoResponder Providers
Some of the big name autoresponder providers are Aweber, Constant Contact, Mail Chimp, and InfusionSoft. And, there are white-label versions of them, too.
As good each one is, none of them currently offers the the array of autoresponder messaging choices and options that Instant Customer does (formerly known as Monster Follow-Up). None of the others even come close to matching Instant Customer's shear horsepower. Besides the extra four messaging types supported, Instant Customer does "Live" Conferencing, too…for up to 5,000 participants. You'd need a third-party service (like GoToMeeting) with the other email providers. And, they only do up to 1,000 participants.
I have my choice of Auto-responder companies, and I choose Instant Customer. Take this autoresponder for a test ride, and enjoy your additional sales!
Filed Under: AutoResponder