WordPress is a powerful website platform for marketing online. It provides the ability for online and offline marketers of all skill levels to easily add highly desirable functionality to a site (e.g., opt-in forms, video, etc.). And via the theme you choose, WordPress also allows nearly instant transformation from one "look & feel" of your website to another. While simply selecting a different theme can easily accomplish this task, not all WordPress themes are created equal.
This Thesis theme review answers the question I get asked:
"Should I buy the Thesis theme?"
Summary – For my online marketing money, the most powerful and flexible WordPress theme available – by a long shot – is the Thesis Theme. But, what is Thesis theme?
Thesis is an efficient and lightweight HTML, CSS, and php framework for WordPress. It has easy-to-use-controls, is built with SEO in mind, and allows you to focus on your killer content.
As you read this entire article, you'll discover what makes Thesis:
So powerful for the search engines
So desirable for plugin use
So flexible for site design
Thesis Theme – Powerful for the Search Engines
Optimizing your website for the keyword phrases that searchers use is incredibly important for getting your website ranked favorably in the search engines. Most WordPress themes do not come with search engine optimization (SEO) in mind. If you want SEO for your website, you're forced to use an SEO plugin…that may end-up not working with the theme you've chosen. More on that in a minute…

Out-of-the-box, the Thesis theme makes SEO easy by allowing you to set all of the important SEO related settings related to a page, post, image, and video…without relying on a separate plugin.
Back to our question, "Should I buy the Thesis theme?" I've found that the Thesis theme plays a very important role in getting pages and posts ranked favorably in the search engines. And, that means more traffic to my sites…and my client's sites.
"Thesis is a secret weapon in getting great search results." ~ Don Roberts (Certified Local Marketing Consultant)
Thesis Theme – Desirable For Plugin Use
As you know, one of the main benefits of using WordPress is the ability to use plugins for added functionality. And, I use quite a few of them.
The trouble I've found is that some themes and plugins don't always work together. And, it's a bummer when you find out that a plugin you've purchased won't work with the WordPress theme you're using. But, how do you know which ones don't work together? Often, you don't until you're actually installing a plugin.

Since we were talking about SEO (above), let's stay on that for a moment. You may already know that there are some free and paid WordPress plugins available that exist to help optimize your page or post for the search engines. Unfortunately, some themes break the functionality of plugins…even some of the most well known SEO plugins, like the very capable WordPress SEO plugin.
Now, this is not to say that all other themes aren't any good. Rather, I've found it to be a crap-shoot as to whether or not a given plugin will work with a given WordPress theme. It's also not uncommon for one plugin to conflict with another.
An Example…
Recently, I experimented with a cool WordPress system that allows you to rapidly mock-up a website (for the "look & feel" part), then quickly transfer the code for the design into a "live" WordPress website. The code from the mock-up design is copied & pasted into a version of a well known WordPress theme. This system appealed to me because it helped streamline the process for prospecting for offline clients…and getting a site set-up for prospect who signed-up to become a client.
Sounds great, right? I thought so, too…until I found the associated theme to have some major flaws that broke website functionality. Here were just a few of the important things that did not work:
SEO Plugins Broken – None of the capable WordPress SEO plugin settings would stick…as if the values had never been set. And, it wasn't the fault of the SEO plugin
Image Placement Broken – Under normal circumstances, you can align a photo left, center, or right with WordPress…and have the text wrap around it. This well known theme made it so the settings you chose were ignored/overridden…resulting in left-justify every time…and with no text wrap at all. Fail.
Lightbox Broken – The ability to have a pop-up video or image lightbox was simply not working with this well known theme.
And, there were several more frustrating issues…all unacceptable.
"Should I buy the Thesis theme?" I make good use of many WordPress plugins, and I have not found any so far that don't work with Thesis. Thesis is rock-solid with plugins.
Thesis Theme – Flexible For Design
I have worked with a variety of WordPress themes…and have not come across a theme that is more flexible than Thesis. To me, there's nothing even close to the flexibility that Thesis offers.
When first installed, the Thesis theme looks fairly plain…kind of like a newspaper. But, don't let the somewhat pizzazz-free look throw you. You see, with a little bit of effort, you can make the Thesis theme look like any theme available. Its that flexible.
The Thesis admin section makes it a snap to make site-wide changes to the "look & feel" of your site without touching any code. Easily make changes to fonts, colors, columns…and a lot more. It's newbie-friendly, but the more advanced users will love it, too.
For those who enjoy code...and plugins
Thesis also provides the ability to make modifications to the "look & feel" of the Thesis using CSS and PHP file customizations. But, the even easier way to
customize Thesis
v1.85 (still available) is with a series of custom plugins described in this
Thesis customization
article. Newer versions of Thesis are customizable within the Thesis admin dashboard.
"Should I buy the Thesis theme?" When you combine the limitless design flexibility with the best-in-class search engine friendly features…and the powerhouse plugin functionality that WordPress offers, you have the best set-up possible.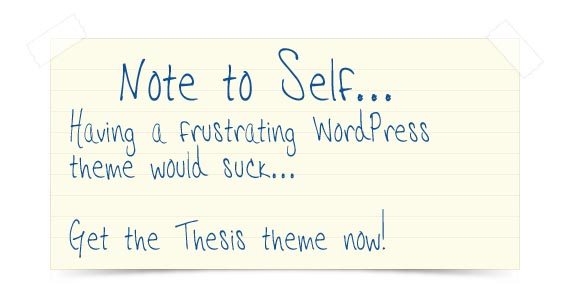 As you're reading this, you begin to realize how well the Thesis theme is made compared to the bulk of other WordPress themes. And, when you think about the unfair advantage Thesis provides, you'll want to get Thesis right now!
Bottom-line: Should I buy the Thesis theme? For a WordPress theme Thesis just works…and very well at that. If you want a WordPress theme that is:
Top-shelf in the SEO department
Limitless in the "look & feel" department
And, friendly to plugins
Then, your choice is clear. And, just to help with that final nudge to get Thesis, here are a few more things to make the decision a real no-brainer:
The guys at DIYThemes keep updating Thesis
The version updates are free…and easy to install
You get access to a large private forum to help get any Thesis theme question resolved
Highly recommended.
What to do now…
When you think about which theme you should use for your WordPress website, the only question to really ask yourself is, "Which Thesis option should I choose to buy?"
If funds are limited…or you are certain you will really & truly only build 1 WordPress website during your lifetime, go with the single website option.
However, the best deal by a country mile is to get the Developer option. You pay a little bit more, and you get the option to build an unlimited number of WordPress websites using the Thesis theme. And, this option allows you to sell them, too. By going for the Developer option, you'll think your pretty smart every time you build a new website…and don't have to spring for another single-site license.
Either way, you want to get Thesis now!
Don Roberts, CLMC
Note: My decision was to purchase the Thesis Developer option.
Resources:
Filed Under: Should I Buy The Thesis Theme?